the Beauty Oil
Regular price

Sale price

$32.00
The Beauty Oil is made from pure ingredients with no fillers, it purposefully has no added scent. Make the Beauty Oil a part of your daily facial care routine. It is made with the best, non-comedogenic, organic, and vegan oils like sunflower seed, argan seed, carrot seed, rosehip, hemp seed, apricot seed, and black seed. Use as a facial oil cleanser or as a luxurious moisturizer. Experience what truly "loving your skin" looks and feels like with the Beauty Oil that launched Cheryl Kelly & Co. 
Handmade in small batches.
ingredients

*Helianthus Annuus (Sunflower) Seed Oil, *Argania Spinosa (Argan) Nut Oil, *Daucus Carota Sativa (Carrot) Seed Oil, *Rosa Canina (Rosehip) Seed Oil, *Cannabis Sativa (Hemp Seed Oil -contains no THC), *Prunus Armeniaca (Apricot) Kernel Oil, Ricinus Communis (Hexane-Free Castor) Oil, *Nigella Sativa (Black Cumin Seed Oil), T-50 Alpha Tocopherols Vitamin E Oil (wheat derived), *Citrus Sinensis (Orange Essential Oil)
directions

Apply 3-4 drops to your face or fingertips in the morning and/or the evening & gently massage into your skin to create a indulgent, moisture rich, experience...give your face some serious love!
Can also be used as a cleansing oil - apply to face and gently wash away with a warm washcloth. Then apply a few drops on your face and neck to moisturize.

Share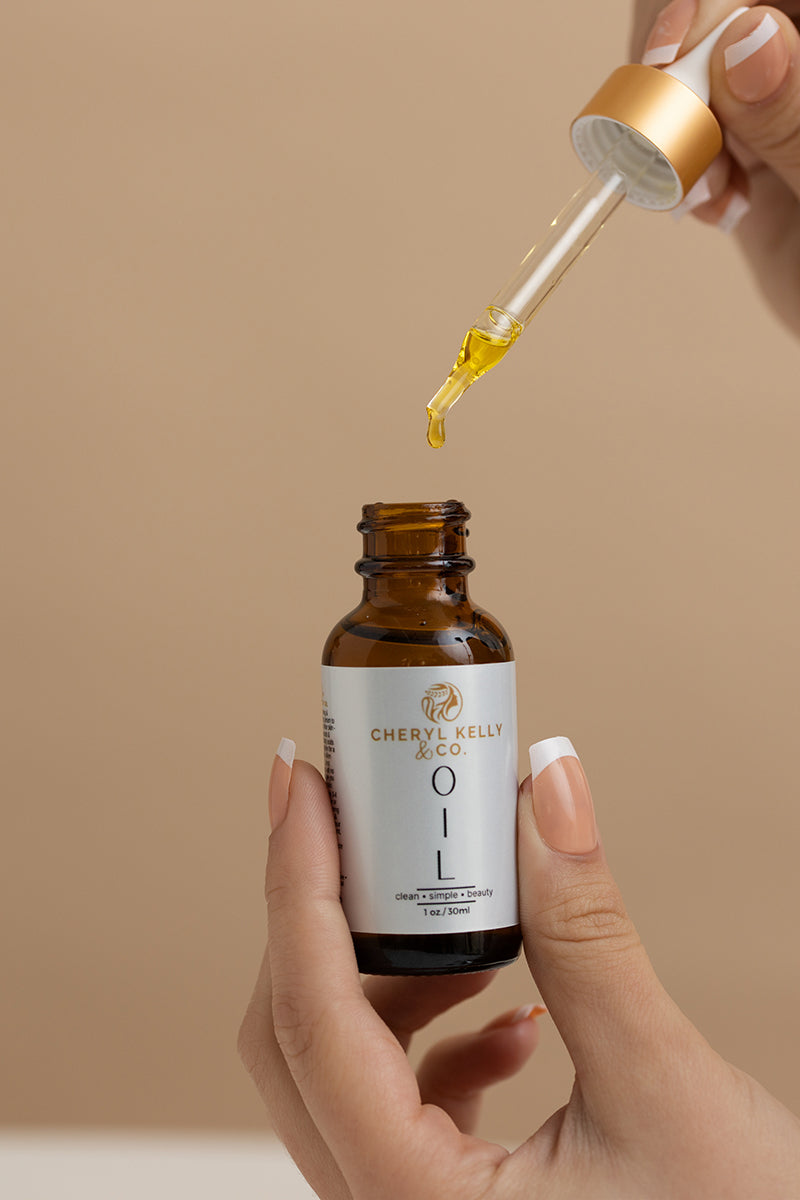 Care Guide
To care for your product, store in a cool and dry area away from direct sunlight.
Guarantees
NATURAL PRODUCTS

...made with natural & certified organic ingredients.

CUELTY & FRAGRANCE FREE

...not tested on animals and only the natural oils are used, no fragrance additives.

VEGAN

...made with plant-derived ingredients.

REFILL/REUSE/RECYCLE

...because that's important to us all. Check out our refill/reuse/recycle program.
Testimonials




"I am loving the oil and my skin is much more moisturized and soft. My face stays moisturized all day. I used another product for decades, not anymore...I switched after a few days of the beauty oil. I want the lip tint too!"

D. Carter
"I've been using it every single night and sometimes in the mornings. I love adding it to my moisturizer personally. 2-3 drops goes a long way! I put it on my face and neck and it feels SO good. My skins very sensitive and anything new it usually breaksout first. Especially oils and serums but it's actually not done that! Normally this week would be my week to have the worst skin but it's actually improved, not worsened. I'm a huge fan and I've told multiple people about it!"

B. Wilson
"Absolutely love my oil! I'm the weirdo asking people to feel how soft my face is! Seriously, I love, LOVE the oil! Can't wait to see what's next!"

R. Jones
"Absolutely love this oil! I always feel as though my face is so clean after using this and it's so light and airy that it makes my skin feel really soft! And, I LOVE the regime only takes a few minutes to use- unless you want to take longer massaging it in your face really well! Either way it's simple! I don't have 3-4 different products to use each time!!Thank you for sharing this incredible beauty oil with me!!"

L. Werries
"I was diagnosed with an autoimmune disorder and my thyroid is no longer working. I developed night sweats and adult acne to name a few. My dermatologist had me on an oral, a cream, and a face wash. I've cut out the cream and face wash and so far, the oil is working amazing. Definitely loving it!!!"

A. Northrop